The good stuff …
We played ...
collecting wood, lighting the fire and keeping the fire going
with flashing, light up toys
catching bugs
and the grown ups tested out an iPhone app for finding constellations and other objects in the night sky. I downloaded a couple of free apps and our favourite was SkyView Free (but the Southern Cross was not listed as a constellation, so if you can recommend a more southern sky friendly app, please leave a comment). This is a fun way to learn more about the night sky.
And the bad stuff ...
It was very exciting and difficult to sleep and then, after a little sleep in the tent it was all a bit too scary and inside seemed better. Past experience has taught us that there is good reason to have a practise camp out in in the backyard before going away from home!
If you want some tips on how to have a successful camping trip (away from home) with the kids, here is
a list of some helpful resources
.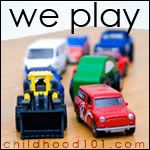 This post is part of Childhood 101's We Play link up. Head over and see more great play ideas.